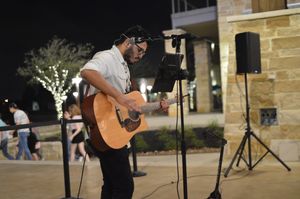 Bio
Darian Hernandez is a singer-songwriter located in Houston, TX. Focusing on supporting himself as a musician, he became a cover artist performing around the United States at 18.
From a young age, he was introduced all different types of music ranging from country to pop, hip-hop to classic rock, and so on! In his teenage years, he learned to play the guitar, piano, drums, and other instruments as well. It was at 18, that he discovered that being a full-time musician was what he wanted to do for the rest of his life! 
Since then, he's performed over a 1000 gigs and has no signs of slowing down! Noticeable clients have been the Houston Livestock Rodeo, Crown Royal, The Lights Festival, and even backed up Hannibal Buress at one of his stand ups.